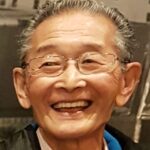 It is with great sorrow that the family of Akimi Tokuda (Aki to family, Tak to friends) announces his sudden passing on November 5, 2021 at the age of 79.
Born in Lethbridge, Alberta, on September 15, 1942 to Masao and Emiko (Arizono) Tokuda, Aki was raised with five younger siblings on a farm near Picture Butte, Alberta. In 1959, at age 17, he joined the Royal Canadian Air Force and pursued a career in avionics, retiring from military service as a Sergeant in 1988. He continued to work as an avionics technician in the private sector until his retirement in 2007 at age 65. Three weeks later, he found a part-time job with Enterprise to "keep busy" and worked there until 2020 when an accidental fall changed his life.
During his military service, Aki travelled to many places across the country and around the world, including a 1973 peacekeeping tour in Egypt. He was a softball player and coach, a lifelong curler, and an avid sports fan. His holiday turkeys, barbeque, and homemade sushi were treats eagerly anticipated and enjoyed by family and friends. Although he was a quiet man, Aki's big, generous heart spoke volumes for him. He was a bottle-feeder and a diaper-changer long before it was commonplace for men, making him a husband and father that many wished for but that we were lucky enough to have.
Aki is survived by his loving wife of nearly 54 years, Edith (Dee Dee); his daughter, Laurel (Scott, Casi); his son, Jamie; sisters Fay Nowak, Nori Tokuda, Ets Karaki, and brothers Ken Tokuda and George Tokuda; as well as a large extended family and many friends.
A memorial service will be held on Saturday, November 13, 2021 at 3 pm at the Granite Curling Club, 8620-107 Street NW, Edmonton, Alberta. All of Aki's friends and family are welcome to attend and all attendees will require photo ID and proof of vaccinations, or a negative COVID-19 test within the last 72 hours.
In lieu of flowers, please make a donation to The Greater Edmonton Poppy Fund at poppyboxabnwt.com