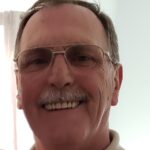 It is with great sadness that we announce the passing of Al Mill on Thursday March 31st, 2022, at 66 years of age. Al lost his 6 month battle with cancer in Edmonton, which has been home for the past 11 years.
Dearly loved & missed by his wife of 44 years, Karen (nee White) & beloved father to Scott (Katherine) & Adam. Loving & proud grandfather to William & Olivia & greatly missed by his sister, Karen, & brother, Gord. Al will be forever missed by his family, friends & colleagues.
Al has been cremated as per his wishes. Karen will be bringing Al's ashes home to Ontario at a later date.
The following are tributes to Al posted on Facebook by his sister, Karen, & sister-in-law, Janice:
Cancer Sucks.
We lost my Brother Alan Douglas Mill ( July 20 1955 – March 31 2022). Alan bravely tried to fight his cancer and give us all more time with him, his journey after diagnosis last October was not easy. Al was so lucky to have his wife Karen, my heroine, by his side every minute. Scott & Adam his wonderful boys were also rocks who came together to make every day a little easier. Alan's Grandchildren William & Olivia were bright spots in his life and brought twinkles to his eyes.
My little brother was kind, caring and loving, smart & funny, handsome and athletic, he was an amazing Father, Husband, Brother, Uncle, Son, Grandfather and friend, he had a big heart and helped so many. Alan provided a job to so many friends and family and was there for any one who needed a little help, he was encouraging when people he cared about were down and needed a hug or a strong steady shoulder to lean on.
Alan was 4 years younger than me and when he came along I loved playing little Mother. In my teens he was a huge teasing pain in the butt. Once we all made it safely to our 20s Alan and Karen were wonderful friends, we partied together and enjoyed many
gatherings and evenings of cards as couples and family. We loved each other's children and enjoyed watching them all grow and thrive. All our hearts are hurting. Alan is already missed by so many.
-Karen
Al entered, my sister, Karen's life when she was 17…high school sweethearts, they were!
Tall & lanky with sharp features, and oh, so good looking to my 14 year old eyes…that's how I first remember Al Mill.
His boys, Scottie & Adam, inherited that distinct Mill gene, & look so much like their
father. The Mill gene is strong & also lives on in Scottie's son, William.
Al was so proud to be Grandpa to little William & Livvie.
There are so many good things that we loved & will remember about Al.
Al never changed, he was always the same…such a steady, even nature.
I always thought that Al was the yin to Karen's yang. Karen was the excitable one & Al was more the laid back & calm one. Many a time over the years, I heard Al calmly say, "It's okay, Kar. It's okay…settle down."
We admired Al's grit & his never-give-up attitude. Al met with adversity in his life more than once, but never backed away from it. He kept his nose to the grindstone & persevered.
Al was a natural athlete & good at any sport he tried…but his two favourites were hockey & golf. I never watched so much hockey as I did in the two weeks that I spent in Edmonton with them in November. I left knowing not only the whole Leafs roster, but the Oilers, of course, as well 🙂
Al was always game! He loved card games, board games, you name it & Al was up for it! Over the years, whenever we all got together, Al was always up for a challenge & a bit of fun.
We are so very thankful for our time spent with Al, Kar & Adam this past September when they were finally able to make their annual trip home after Covid. Al's last 6 months were a testament to his determination, his unwavering positivity, his sense of
humour which never left him & his innate goodness & decency.
Al gifted us with one last visit home the weekend before he passed. It was a happy time for family & a few close friends because we simply followed Al's lead. He made it easy for us.
We will miss Al terribly, but we are grateful & blessed for our almost 50 years of making memories together.
I am sure that by now Al has already played a round or two, or even three, of pain free golf & know that our dad will be only too thrilled to have such a worthy opponent
or partner as Al!
God Bless You, Al!
-Janice