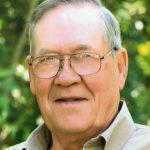 Albert White was born on March 11th, 1930 in Sioux Lookout, Ontario. The family relocated to Elphinstone Manitoba where he attended the Elphinstone School. He was the eldest of seven children. In 1952 Albert married Margaret Topolinski from Neepawa where they settled for the next 6 years. On or about 1950 Albert started his working career on the Railroad with the B&B Gang building bridges.
He did this for the first 10 years before relocating the family to CFB Shilo where he joined the Inter-City Gas Company. After 8 years in Shilo the family again relocated to Virden where Albert started his own Plumbing and Heating Business for approximately 6 years. It was at that point the family left Manitoba to settle in Edmonton Alberta where he continued to work in the Plumbing industry until his formal retirement in around 2000.
It is with great sadness that the family of Albert announces his peaceful passing on January 9th, 2021 at the age of 90. Albert's death is preceded by the untimely passing of his daughter Linda Dinney on January 18th, 2020.
He will be forever missed by Margaret, his surviving wife of 68 years and their three children; Barbara White, Laurie (Jim) Parkinson and Larry (Carrie) White. In addition his five grandchildren, Stacey Dinney, Sarah (Kerry) Preece, Matthew (Megan) White, Wesley White, Jennifer White and seven great grandchildren.
Albert is also survived by his six brothers and sisters; Leslie (Lillian) White, Lucy Robinson, Shirley (Bob) Fischer, Deanna Lessard, Bud (May) Bercier and Dennis (Brenda) Bercier and numerous nieces and nephews.
Albert was a kind and generous man who loved the outdoors including fishing, hunting, and farming. He was always willing and available to help friends and family. He loved music, singing, playing guitar, banjo and violin with great enthusiasm. Rest in peace Albert, we will miss you always and love you very much.