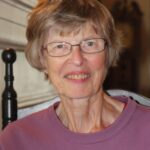 Alice was born on October 3, 1942, the third child of Arthur and Augusta Deer. She grew up on the family farm near Canora, Saskatchewan, where the home had a strong Seventh-day Adventist religious focus. A setting of nature started her lifelong interest in growing things as well as in rural things. She took her early education at Canora Public School. In elementary grades, she won several public speaking competitions. She focused on her studies, and was
valedictorian of her high school graduation class.
She went to Toronto to take her nursing education at North York Branson Hospital. There she met her husband, Dennis Allen, from Rocky Mountain House, Alberta. They were married on June 21, 1970, and returned to Alberta to live. They spent 51 years of marriage on three acres of land 20 miles from Edmonton. Here they built their home and enjoyed gardening and developing their yard together. Flower gardens quickly popped up everywhere throughout their property.
Alice's 34-year nursing career provided wonderful experiences. The 20 years she spent working with young patients in pediatrics at the Royal Alex Hospital was the highlight of her career.
Health issues for Alice began in 2000, curtailing many activities. Even though she
experienced so much illness for so long, she was always thoughtful, generous, and
concerned about others.
Alice is survived by her husband Dennis, sister Dorothy, brother Bob, nephews Troy Deer and Tyler Deer and their families. She was predeceased by her parents, Arthur and Augusta Deer, and a brother, Alvin.
A memorial service celebrating Alice's life will be held on Tuesday, June 14, at 1 pm at the Sherwood Park Seventh-day Adventist Church, 120 Festival Way in Sherwood Park, AB T8A 5Z1