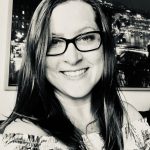 Andrea Mae Brodeur May 6 1972-January 23 2021.
It is with deep sadness that we announce the passing of Andrea, she was peacefully surrounded by her loving family amidst music and candlelight. Andrea was born and raised in Edmonton Alberta and graduated from the University of Alberta with a Bachelor of Education in Elementary. She married her High School sweetheart Roger in 1996 and they eventually moved to Denver Colorado, but ultimately returned home to start their family. Andrea was a devoted mother who spent quality time with her children and enjoyed all their endeavours. She was an avid volunteer in the School, Hockey and Dance communities.
Andrea enjoyed all the family vacations, especially the time in California. Andrea gave to so many and always approached tasks with creativity and excitement. Andrea shared her Courageous battle with cancer in hopes to educate and inspire others facing adversity. We mourn her loss, but rejoice that she was a part of our lives. She is survived by her husband Roger, children Ty and Isabelle, parents Bonnie and Ed Berg, brother Stewart Berg (Anita) nephews Kai and Aksel, brothers-in-laws Darryl, Terry (Renee) sisters-in-law Tracy and Marilyn, nieces Danielle and Kennedy, nephews Conner, Carter, Jack, and Colby.
Due to current COVID-19 restrictions, a private family service will be held on Saturday, January 30 , 2021 at 5:30 PM. This service will be live streamed at:
Facebook.com/SSUCedmonton
or
SSUCedmonton.com/live
The family wishes to extend a special thank you to Dr. Scarfe of the Cross Cancer Institute and Dr. Laurie Pernisie, as well as her palliative care team and all the Bayshore caregivers who helped Andrea and her family through such a difficult time.
In lieu of flowers, please consider donations to the Cross Cancer Institute, the Alberta Cancer Foundation.