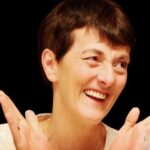 It is with profound sadness that we announce that our beloved mother, sister, aunt and wife Anne Schuurmans passed away on May 17, 2022 at the age of 79 years. Anne and her twin Marie were born in West Mabou, Nova Scotia, to parents Finley and Mary Anne (MacDonell) Beaton, the youngest of 7 siblings. Anne was predeceased by her parents; brothers Fr. Angus Beaton, John Beaton, and Malcolm "Mack" Beaton; sister Jenny; brother-in-law Stanley MacNeil; and sisters-in-law Josepha Beaton and Doreen Beaton.
Anne is lovingly remembered by Rudy, her husband of 46 years; her children Anke (Robert) Banks of Calgary and Angus (Jennifer Babuik) Schuurmans of Edmonton; her grandchildren Oliver and Joshua Banks of Calgary; her brother Roderick "Roddie" Beaton of Halifax; and her twin Marie (Owen) Cameron of West Mabou. She is survived by nephews Alec and Angus MacNeil, Gord Beaton, Derrick and Geoffrey Cameron, and Stephen Beaton; and nieces Betty Ann MacQuarrie, Genevieve Beaton, Denice Fryer-Lalande, and Alisha MacLellan.
In their early years, Anne and her twin were inseparable with one often passing for the other. They loved going to the beach and to local square dances. In her 20s, Anne left Cape Breton to complete her nursing training at the Halifax Infirmary and went on to nurse in many places including Halifax, Toronto, and Calgary. While living in Halifax, Anne met Rudy. They married on Aug. 21, 1976 and moved out west, first living in Calgary then Hay Lakes, Alberta where they had their children. They returned to Beaverbank, Nova Scotia for 7 years before moving back to Edmonton where they spent the rest of their lives.
Anne was a warm, kind, caring woman with a love of East Coast music and a good game of cards. She was never too busy for a chat and touched all who met her with her friendly spirit and thoughtfulness. She loved being a nurse and truly found her calling in the latter part of her career when she worked as a long-term care nurse at the Good Samaritan Dr. Gerald Zetter Care Centre and St. Joseph's Auxiliary Hospital in Edmonton, Alberta.
Although her memory failed her in her final years, Anne's gentle manner continued. The family would like to sincerely thank AgeCare South Terrace for their care of Anne over the past 3 years.
A funeral service will be held on Tuesday May 31 at 11 a.m. at St. Thomas More Parish, 210 Haddow Close NW, Edmonton. In lieu of flowers, please consider donating to the Alzheimer's Society of Alberta.