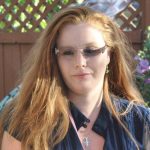 Barbra Leclercq, at the young age of 43, passed away in her home on May 31,2020. Barbra will be lovingly remembered by her mother Joy(Garry), Her daughters; Sara(Amanda), Skyler(Victoria), Salanis(Tristan), Sabrina, Her sons; Sebastien, Tommy, Luke, Logan, Her grandchildren, Christapher, Cashton & Mary, Dominic & Lilith, Her siblings, Kevin(Tamara), Paula, Chad, Chase, Chance, Her Father; Melvin(Bonnie) and in addition to numerous aunts, uncles, nieces, nephews, and cousins. Barb is pre-deceased by her grand daughter Elizibeth, Her Dad Kenny, and her aunt Marie. Barbra will be forever missed by many friends and family. Please pray for her safe travel to heaven.
This was my daughter
Barbra's journey in life has touched many people's lives and now in her death will leave many memories for these people. Her journey in life consisted of so many roads with many twists and turns but along that journey she created 8 paths. These paths have left behind Sara, Stacey, Salanis, Sebastian, Sabrina, Tommy, Luke and Logan and are now left to take the lead to find their paths. She gave them life and she is showing them through her death that they must choose the right road for her's was an early death. Barbra's legacy is her children who she would want to live the life she could not. She was not a selfish person; she spread sunshine whenever she could, she showed strength when needed, she gave and did not take, and was courageous for others but in the end she could not save herself. She will continue to be loved and remembered. Isaiah 57:1-2 Those who walk uprightly enter into peace; they find rest as they lie in death.
If friends and family wish to make a donation in memory of Barbra, They can be sent to Living Hope Christian Centre at 3831 116 Ave NW
Edmonton AB T5W 0W8 (780)-479-1973.
Thank you,