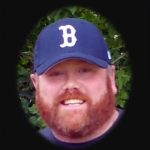 It is with great sadness, that the family of Ben Rooks announce his sudden passing on Sept 18, 2020, at the age of 40.
Ben was born on February 9, 1980 to Monty Rooks, and Kim Brown. He spent most of his formative years living between Fort McMurray, and Whitecourt, and settled in Edmonton, AB in 2011 where he met his wife, Amy. Then were married and had their son, Cohen, in 2015.
Throughout his life, Ben had a passion for sports and was an exceptional hockey goalie. He was voted MVP on numerous occasions. He was also an avid golfer and always strived to improved his game. Ben was an incredibly talented mechanic, and pursued a career as a heavy equipment technician.
In his personal life, Ben considered his greatest accomplishment of being a loving and protective father to Cohen.
Friends and family knew Ben for his hilarious wit, incredible energy and his great big heart.
Ben is survived by his wife, Amy Rooks and their son, Cohen Rooks; his father, Monty Rooks and step-mother Marcie; his mother, Kim Brown; his sister, Lacey Rooks-Turcotte (Daniel Turcotte); his brother, Britt Rooks; his step-sisters, Mavreen Anderson (Wayne Anderson), and Tara Mauch; his step brother, Tyson Mauch, (Erin Mauch); Grandfather, Joe Rooks; nieces Morgan Turcotte and Alesha Anderson; nephews Hunter Turcotte and Tyrell Anderson; numerous aunts, uncles, cousins and friends.