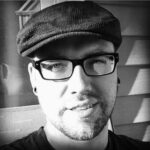 September 30, 1983 – May 5, 2022
We are deeply saddened to announce the passing of our beloved son Blair, who peacefully passed away on May 5, 2022
surrounded by loved ones after a courageous and hard-fought battle with brain cancer.
Blair was an incredibly bright spark in this world and will be greatly missed by many. He is survived by his mother Starr Hanson (nee Corcoran); father Brian Hanson; brother Brett (Michelle); nephew Bowen; former spouse Chelsea Hanson (nee Redman) and their
children Kenna and Jack; as well as uncle Kevin Corcoran of Kingston, aunt Judi and
uncle David of Winnipeg, and their families; and all of the "super friends" that were by his side since childhood.
Blair was born and raised in Winnipeg and moved to Sherwood Park in 1989. After
graduating high school, he pursued a career as a Journeyman Welder and most recently worked at AltaSteel in Edmonton. Sincere gratitude goes out to colleagues, friends and family for the outpouring of love, care and support.
Although he tested out his skills in many different sports during his childhood, Blair's
biggest passion in life was music. An avid guitar player, Blair was a self-taught musician and spent countless hours perfecting not only his ability to play but his singing voice as well.
Blair will be remembered for his quirky collections and unique style, but most
memorably for his loving nature, sense of humor, memory, and ability to impeccably
impersonate actors and comedians. He touched the lives of all who knew him and will never be forgotten.
As Blair said, "This isn't goodbye, this is a see yah later."
Our sincere thanks to the Royal Alexandra Hospital staff who cared so compassionately for our son.
A celebration of life will be held on Sunday, June 5, 2022 at 12:00pm – 3:00pm at Oscar's Pub in Sherwood Park.
Memorial donations in Blair's name can be made to the Alberta Cancer Foundation.
Share a memory
www.simplycremations.com