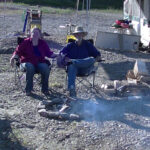 Carol Gail Sarinn (nee Kuss), born June 6th, 1964,passed away on December 2nd, 2022, at the age of 58. She was surrounded by close family at the time of her passing. She will be lovingly remembered by her husband, David, daughter Aleysha, sister Debra, and countless relatives and friends.
Carol made a working career, applying her extensive clerical skills, at various office positions across Edmonton. Her work within the temporary services field earned an established reputation for adaptability, quality and accuracy.
Carol always had a book with her, usually something from the historical romance genre. She also had an extensive collection of science fiction.
During the summer months she enjoyed camping, fishing, reading, and generally enjoying the beauty of the North Saskatchewan River, with her family.
The winter was filled with computer games, reading fan fiction (especially Vin Diesel), watching action movies, and enjoying her retirement years.
A wake will be held for Carol at a later date, likely in the late spring/early summer. Carol's ashes will be interned at a family plot in the Evergreen Cemetery.
Memorial donations may be made in Carol's name to any non-religious charity that helps those less fortunate. Carol's adult life was difficult, and such charities helped her family through the hardest of times.
The family would like to send a special thank you to the Mazenkowski Heart Institute's ICU staff for making Carol's last days as comfortable as possible.