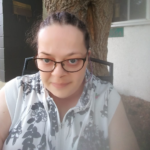 Cheryl Pearce, born January 30th, 1970 in Lacombe, Alberta passed away peacefully January 7th, 2022 in Edmonton, Alberta. Cheryl is survived by her loving partner Corry Bruce, two sons Devin Pearce (Angela) and Steven Bazowsky (Olivia), granddaughter Mia Bazowsky, her sisters Lacy Nedeljak, Shelley Fritsen, Krystal Pearce, Trish and Louise Beamish, and many nieces and nephews. She was predeceased by her mother and father.
Cheryl loved her family and was always searching for more to share her life with. She loved her pets Jak and Mr Bean. Cheryl had the most generous caring personality, she was always there if you  needed her. Her energy lit up the room. She was a truly amazing person even though she was battling multiple sclerosis for many years, she never let it bring her down. The world will be a little duller without her bright smile and giving heart. Cheryl was always looking to plan another family gathering, to meet her forever growing new family members as she found them. She will be greatly missed by everyone who knew her.
In lieu of flowers if you would like to make a donation to the MS society in her honour she would have appreciated it. A "Celebration of Life" is planned for the May long weekend,  details to come.