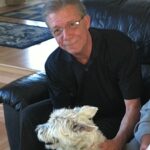 Chester Jerry Quaife Junior passed in the arms of his family on December 10, 2022, at the age of 70 after a 5-year battle with cancer. He is survived by his loving wife, Dawn, daughters Terra (Chris) and Tanis (Kai), and his two grandsons Carter and Hayden. Chester is also survived by his brother Robert, sister Evelyn, stepsisters Angela, Heather and Ashley and their families. Chester loved to play drums, write music, and sing in his youth, play sports and was an avid golfer. He ran his own property management firm and especially loved to spend his winters in Mexico by the ocean. Chester was a kind, quick witted and funny man always ready for a smile and a joke. Below are anecdotes and personal memories from his family.
Chester I've loved the 48 years we have spent together. You opened my eyes to so many new things and adventures. We had a wonderful life together and I will be forever grateful for our family.
– Dawn
Dad, words cannot express how much I miss you. I have many fond memories of our time together. I remember when we didn't yet have a computer in the house, you would take me tobogganing to your office so we could play computer games together. I fondly remember rollerblading together, sometimes even in the rain, and watching thunderstorms in the garage with you while eating "grandma soup". It is no wonder that I love the rain and storms. I am so thankful that I was able to spend your last days and moments with you. Thank you for always accepting me for who I am and pushing me to be the best version of myself. You taught me so many great lessons and I am forever grateful. Whenever I hear the Beatles or John Lennon songs, I will forever think of you. I love you.
– Terra
Dad, I miss you very much. I miss your smile and easy laughs, I miss your terrible jokes that always got a laugh out of the cashier or waiter. I miss what you were to this family. You were funny and brave and kind. You raised me to try my best even when I didn't succeed. I'll always remember our Thursday lunches where you would check up on me as a teen to make sure I was ok. I remember you teaching me to ride a bike and to rollerblade. I remember you taking me out into tropical rainstorms to splash in puddles and dance in the rain. Thank you for a wonderful childhood and for your love and support. I will always remember.
– Tanis
We will love you forever and we miss you.
Dawn, Terra, and Tanis