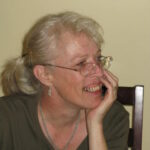 On January 13th 2022, we said goodbye to Christina Ann Wells Chaffee. Christina was born October 5, 1957, in Montreal, Quebec to Don and Pat wells, who raised her and her sister and brothers in Ottawa. Christina attended Algonquin College there, completing her nursing diploma in 1977 and was privileged to work on the first palliative care ward in Canada. Her career took her West, where she met her husband and the love of her life, Robert, in Edmonton Alberta. They married in 1981 and traveled North, living in Ft. Nelson British Columbia and Inuvik, Northwest Territories before settling back down in the town of Beaumont, Alberta. It was during those itinerant years that Christina developed her other great loves: her sons Matthew and Michael, and art. An avid painter and watercolourist, Christina was a long-standing member of the Beaumont Artist's Association and volunteered her time to teach painting to the students at J.E Lapointe School. Christina was always the neighborhood Mom, and her house was always full of the people most in need of a listening ear.
In her later years, Christina was blessed with five grandsons, whom she loved furiously, sang songs with, and crafted jewelry for. Jewelry making was another expression of her artistic energy, and a productive craft with which she could engage family and friends.
In her final days, Christina again found herself in a palliative care ward, but with her role reversed. Even at that, she continued to make friends with the other patients around her, sharing her art and music. In her final moments she was cared for with a tenderness and compassion that honored her and brought full circle the values with which she'd lived her whole life. Christina is survived by her husband Robert; her sister, Juanita; her brothers Christopher and William; her sons Matthew and Michael; her Grandsons Judah, Caleb, Gabriel, Seth, and Thorin; her dear father William Donald Wells; and the countless other lives that she impacted with her love. She was predeceased by her mother, Patricia.
The family is deeply grateful to the Kaye Edmonton Family Practice Clinic for many years of great care. We are also very grateful for the patience, grace, and skill of the nurses, physicians, and others who cared for her so well in her final weeks.
Donations can be made in Christina's memory to the Alberta Cancer Foundation
A celebration of Christina's life will be held later in the year.