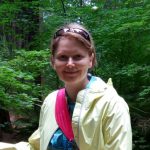 It is with great sadness and torn hearts that we are announcing the passing of our loved one Christina Rae (Carter) Demyen.
Christina was born February 8, 1979 to Dale and Michelle Carter. After a 14 ½ year long and very courageous battle with brain cancer, Christina finally surrendered to the fight on September 12, 2020.
Christina is predeceased by her recently deceased uncle, Marvin Boyko, and grandparents, Bert and Jan Carter.
Mourning the loss of Christina is her loving and devoted husband, Douglas Demyen, his parents Lloyd and Louise Demyen, and brother Jeffrey Demyen, and Christina's parents Dale and Michelle Carter, brother Timothy Carter, grandparents John and Jean Boyko, along with aunts, uncles, cousins, and friends.
Christina was a very strong, determined woman. She was a "Warrior of Life". Considering her health struggles over the past 14 years, Christina was able to achieve many things in life. She graduated from Luther High School in 1997, was involved in the Canadian Navy where she spent training time in Victoria BC. During this time, she earned NCIOP (Naval Communications Officer) credentials.
Christina met her loving husband Doug in 2003. They found that throughout their growing up years, they had actually taken some art classes together and were near neighbours for a period of time. They moved to Edmonton in 2004 to pursue their degrees at the University of Alberta. Christina had to drop out of university half way through due to the diagnosis of her brain tumor. She did, however, finish the semester with the highest grade in the class in the spring of 2006.
During the next 14 ½ years, Christina had to relearn to do many things due to the repercussions of her tumor. However, her strong will and determination made her accomplish many things. Christina achieved many certifications during this time: EASL, Insurance Broker, and Personal Fitness Trainer, along with many other accomplishments. She was finally able to go back to university in the last few years of her life and finish her Bachelor of Technology. This eventually enabled her to work with her husband for a short period of time in the video game industry, which meant a lot to both of them.
Christina was a very driven, focused person with more determination and drive than anyone we have ever known in life. She will always be in our memories and heart.
Life goes on and memories can be forever. We know that in heaven she is moving forward and achieving more than one can imagine. She is a strong force, and has always been!
Due to current restrictions, Christina will be cremated with a small family service. Her wishes are to have part of her ashes spread in Kananaskis County, Alberta, where she and Doug were engaged and had many holidays. She will also be scattered in Victoria, BC, a place with which she truly fell in love during her early years in the Canadian Forces. A plaque will be placed on the headstone of her departed grandparents, Bert and Jan Carter, in Raymore, Saskatchewan. Plus a tree will also be planted in her memory.
Tears, memories and heartache will always be with us. Rest in peace, beautiful child of ours.