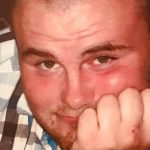 Our lives will never be the same as Christopher (Chris) Russell Bishop December 29, 1985 – February 27, 2021.
Christopher touched many people in his short time. He is              predeceased by his grandparents Gary Drysdale and Debra             Drysdale (nee Bishop). He leaves to mourn; his partner Kelsey Sampson and their fur babies Mimi, Momo. His Mom Sheri Bishop, His brother Kyle Ton (Jessica Scott and her family), his Niece Avari and numerous other nieces and nephews through extended family and friends. Chris touched the lives of so many people, when he left our world he left a void that will always be felt and he will be remembered fondly.
A life long friend he referred to as aunty Sylvia reminded us: "He gave the best hugs" They were full hugs, never half hugs, because he meant it. If he loved you you knew it          because he told you.
An online celebration will be held soon please keep in touch with the family, as well as gatherings with friends and family in both provinces when covid restrictions are lifted