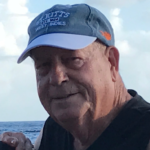 Clifford (Cliff) Joe Lucy passed away suddenly at the age of 86 on December 24, 2022 in Edmonton, Alberta. 
Born December 7, 1936 in Vancouver, British Columbia to Reginald (Reg) and Rosamond (Rose) Lucy (Payne).  Cliff was brother to Kaye (Chuck) Holloway, John (Joy) Lucy, and Walt (Charlotte) Lucy,  all of whom have predeceased him.
During his formative years, Cliff, along with his siblings, spent many summers in Barriere, British Columbia.  These years were spent having adventures, enjoying the great
outdoors and chumming around with friends.  These friends he maintained until their own passing.
On February 27, 1960, Cliff married the love of his life, Valerie Smart. They went on to create four great kids; Terry (Barb), Corinne (Brock), Michael (Stacey) and Christine (Jamie).  While raising their kids, Cliff took a crack at coaching sports the kids played such as softball and hockey.   Later on, he became a grandfather (Papa) to six grandchildren; Martin (Tara), Anna, Kelsey, Cameron, Hunter and Holly.
Cliff wore many hats during his working life.  His first job, as a young lad, was courtesy of his dad, Reg, a manager at a cannery. After completing school Cliff drove for Grange Mattress then moved into sales for Gates Rubber.  After a few years of traveling all over BC and points North, Cliff returned home and went to work as a Vancouver Transit Driver on the lower mainland.
The desire to appease his gypsy-like lifestyle led Cliff, Val and the kids to make the move to Quesnel in Caribou country, the heart of the BC interior.  Here Cliff would work as a car salesman.  Later, he would own and operate his own logging truck.  As a lover of the great outdoors, time living in Quesnel gave way for hunting as well as freshwater and ice fishing.  All things he loved.
In 1981, he and Valerie made the move to Nanaimo on Vancouver Island.  This allowed for more mountains, beautiful ocean and the desire to land much bigger fish!  For a few years Cliff operated a part-time fishing charter with their boats.  He and Val had the good fortune to trail their 24 ft Sabre Craft up the Port Alberni Canal to try their hands at
fishing the big salmon.
During their 16 years living in Nanaimo, Cliff was employed as a car salesman, then worked for Shell Canada delivering oil for residential heating and finished his working
career as a Municipal Transit Driver in Nanaimo.
In 1996 Cliff and Val retired to Smoky Lake, Alberta.  They purchased a small acreage and enjoyed raising chickens and a few head of cattle.  After enduring a few brutally cold Alberta winters, the two decided to set their sights on the warmer temperatures of Yuma, Arizona.  Here they both enjoyed sunshine, the heat, golfing and spending time with friends.
Cliff was a remarkable person.  We admire you immensely for everything you did; your vitality, your zest for life, what you stood for, and especially how fiercely you loved us all.
Your memory will live on forever through all of those that meant the most to you, those you loved and who loved you back.
A great husband, a dedicated father and a friend to many!