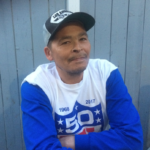 DALE ANDREW LUNDIE
                                             MARCH 13, 1970 – OCT 13, 2021
It is with heavy hearts that we announce the early passing of Dale Andrew Lundie at the age of 51.
Dale was born in Calgary AB March 13th 1970.  During his life he spent time in BC, Alberta, Saskatchewan and Manitoba.
While Dale was with us, he left a lasting memory with everyone he met. His humor, energy and strength far outweighed his shy and humble personality.  He was many things to many people. He was a son, a brother, a proud father, a friend and companion. How he touched everyone can best be described by just a few of the many, many people in his life.
Dale as a son –
I lost my baby boy Dale. I was supposed to go before you! Now I only have your son to remind me of you. Your son and your brothers Donny, Rod and Linc. We spent a lot of time together while we were in the environmental workplace, travelled all over. I taught you a lot about work and the workplace environment. You were the best at what you did! Now I will be bringing your ashes back to Churchill to lay you to rest beside your grandma and uncles and stepmom. We had our ups and downs. Know that I loved you so much and forever! Until we meet again son. Love you. Dad bert – "pops"
–        Bernard Lundie
Dale as a brother –
We have Mind Body and Soul and unfortunately, like many in this world, you lost your body… you are still with us in Mind and Soul!! I know this because we were together the last few nights in my dreams. See you again tonight and many nights to come. And best of all see you again on the other side where we can do all the stuff we did when we grew up together!! Go Montreal Canadians!! Love U my brother!!               -Lincoln Camphaug
Being the same age, we had basically the same friends and hung out together most of our young lives.  I learned a lot of good things from Dale, but also learned a lot of bad…. lol. I remember roaming around just to see what kind of sh#t we could get into, and take part of or cause. He was the best defense partner any hockey player could ask for. His 90 mile an hour right arm will never be forgotten.  The "Churchill Whip" I'll miss you always and will always cherish the memories.  I love you brother. See you again someday.                                            –  Roderick Camphaug
Thanks for taking care of  him!                                                 –  Donald Lundie to MaryAnn.                                    
Dale as a father –
Thanks for all the adventures dad. Well now I know where you are. See you again some day. Love you lots.
–        Lanny Lundie
Dale as a companion and friend –
I have many great memories of Dale. He was my first love and we started a family at a young age. He fathered my first born as his own, and we also had a son together. I'll never forget him. He was always in my heart. He was a great guy. He had many friends and family. I will never forget the many hockey nights at my house with all the boys, our fishing trips and his finger tapping on the table. And his silly lingo for the boys. Dale touched many hearts. And was loved by many people. Love you long time, until we meet again.               –  Roberta Brabant
Lost my best friend. Dale. Knew him since 2007. We were both at turning points at the time. We helped and supported each other over the 14 years of companionship and friendship! He has left me so many memories to last a few lifetimes and then some! Was there for him through good times and bad times. He was there for me as well! He called my place…his home!  His presence is all over my house including his dog Buddy. Dale will be sorely missed by my family and dogs! Till we meet again Dale. Love always and forever Maryann, family and dogs.         –  Maryann Napope
Dale had so many friends/bros in saskatoon too numerous to count!  he will be greatly remembered for his kindness, caring, loving, sweet, quirky, mischievous, shy, compassionate character! He has left unforgettable, lasting memories and good times                   –  Friends from Saskatoon
Gone from all of us too soon with too many "Hello Again" 's left unsaid.
To be remembered in all the ways he left a lasting memory and smile on each of us would be his proudest accomplishment.