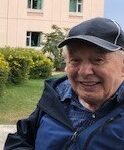 Dalles Vernon Arndt passed away peacefully on Monday, August 8, 2022.
Dalles is survived by his wife Gladys, his children Kathy (Gerry), Richard, Shirley (Morgan), his grandchildren Bradley and Conor, his siblings Gordon and Pat and sister-in law Janlyn. Dalles was predeceased by his father, Fred, mother Emmeline, brother Brian, his sister-in-law Florence, and brother-in-law Harvey.
Dalles was born on August 14, 1932 and he grew up on a farm east of Millet. Dalles had a career as a carpenter by trade and was a craftsman woodworker in his spare time when he was younger. In the earlier years Dalles had a love for fishing, camping and being outdoors. Back then he would also study the AMA tour books and maps every winter to prepare for the annual family driving vacation to the States. Dalles cherished his wife Gladys, his kids, and grandchildren. His loss will be felt deeply by all who knew him.