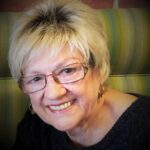 On December 8, 2021, our loving mother, Danna Rose Bayrak (nee Kaminski), of Edmonton, Alberta, passed away peacefully at the age of 74. She is survived by her son Michael (Laurie), daughter Danna Schmidt (Curt), beloved grandchildren Aviana, Malia, Logan, and Jonika, brothers Regan and Ronald Kaminski, sister Deborah Miller (Julian), nephew Laurence Mah, cousins Jay Morrell, Kiki Briesbois-Morrell, and Donna Moore (Michael), and great aunts Lillian Martin and Kiki Violet Morrell. She was predeceased by her brother Scott "Butch", mother Rosa Kaminski (nee Kurtin), and father Danny Koshman.
She worked at the Edmonton Country Club, Imperial Oil, Royal Glenora Club, ran her Plants Plus business, and was a territory manager in the wine and orthotics industries.
She was beloved by many friends and pets, and taught us about unconditional love, loyalty, friendship, and generosity—an angel in life and now she is among them.