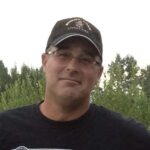 It's with great sadness that we announce the passing of Darcy Philip Wirch on July 19, 2022.
Darcy was born on December 27, 1967 and lived in the Drayton Valley and surrounding areas.
Darcy leaves behind his wife Kimberly and daughter Miranda; his sister Patricia (Bruce) Ennis; 2 nephews; 3 great nephews; and numerous uncles, aunts, and cousins.
Darcy was predeceased by his parents Philip and Eleanor Wirch.
A celebration of life will be held on September 3rd at 3pm at NW-18-46-6-W5 (Chuck Lake). It's 2.5 miles north of highway 13 and highway 22 intersection on highway 22,
access road on the east side.