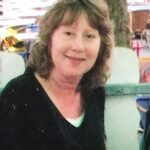 It is with great sadness we announce the unexpected passing of our Beloved Sister and Aunt, Darlene Budinski born March 21, 1953, passed December 24, 2021. World traveller and avid gardener with a deep love of nature, Darlene's warm and gracious heart we will hold lovingly in our memories. Remembering fondly her light and sparkling smile and that twinkle of adventure that shone in her eyes.
She is survived by her brothers Steven (Shirley) Budinski and Robert Budinski of Yellowknife, NWT. Her nieces Vicki Budinski and Lori Budinski and her great nieces and nephew, Haylee Hatton, Kylie Hatton, Ella Meraw and Jacob Meraw.
The family will be holding a private ceremony to Celebrate her life.