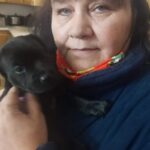 It is with deep sadness that we announce the passing of Darlene Peters on August 8, 2023, at the age of 56, after a brave battle with cancer. Darlene was born on March 10th, 1967, in Kindersley, SK. She later relocated to Swift Current, SK residing with her parents Helmut & Bertha Peters, before eventually
making Edmonton, Alberta, her home.
Having completed her Administration degree, Darlene embarked on her professional journey at Orange Management, where she served as an office administrator, marking the beginning of a six-year career. While her original intention was to return to work, her heart's desire led her to devote herself to her greatest passion: being a stay-at-home mom to her three children. She even took on the role of homeschooling her two sons
during their early academic years.
In 1986, fate introduced Darlene to Eric Taylor through a mutual acquaintance in Edmonton. Over the next 37 years, their love story blossomed, demonstrating a level of devotion and care that is rarely witnessed in today's world. Their bond weathered
challenges, demonstrating Eric's unwavering support, particularly during Darlene's
moments of greatest need. He remained by her side until the very end.
Darlene had a love for games, likely stemming from her early love for playing Rook. Among her favorites were Rummy 500, Uno, and any new game that piqued her interest. Her infectious laughter and sense of humor endeared her to others. She relished
spending summer evenings around bonfires and creating cherished memories with her children through various adventures. In her later years she loved to watch movies and tv shows with her youngest son Jesse. It is a part of his life with her he will miss.
An animal lover, Darlene's home was often graced with pets, especially dogs, which
became an integral part of her family. Bailey, Nala, Reese, and Fiona, her cherished pets she left behind, miss her spirit and kind soul.
Her love for music, particularly classic rock, was evident, and she gradually embraced other genres over the years. She listened to her music night and day in the final weeks of her life. As her daughter walked out of room for the last time before she passed away playing in the background was "Go Your Own Way" by Fleetwood Mac. It was the way she did everything: her own way. She was a woman of faith, she found solace in reading devotionals and living a calm and peaceful life with the people who mattered most.
Darlene was preceded in death by her father, Helmut Peters, in 2001, as well as her grandparents: Abe Klassen (2002), Judith Klassen (2010), Susie Peters (1994), and Henry Peters (1995).
She is survived by her mother Bertha, her husband of 37 years, Eric Taylor, and her three children: Danielle (Mauricio) Peters of Tampa, FL; and Aaron (Rachel) Peters, and Jesse Peters, both of Edmonton, AB.
She is also survived by seven siblings: her brothers, Cam of Medicine Hat, AB; Darcy (Janyce) Weins of Lloydminster, AB; and David Peters of Northern Alberta; and her
sisters, Wanda (Ron) Behnke of Regina, SK; Yvonne (Martin) Wriglesworth of Powell River, BC; Dawnella (Doug) Ginn of Calgary, AB; and Kathy Alldarice (Troy) of Morden, MB; as well as numerous aunts, uncles, cousins, and nieces and nephews.
Darlene's legacy also continues through her three beloved grandchildren: Ava (3), Oliver (1), and Austin (6 weeks).
She will be missed more than words could ever describe and the loss felt.