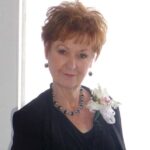 It is with broken hearts our family announces the passing of Darlene Terrill Wilson. She was released from this life on Saturday, March 18th at the University of Alberta Hospital, surrounded by so much love.
She was a beautiful wife, loving mother, proud grandmother, great grandmother, devoted Sister, auntie, cousin and friend to all who knew her.
Although her life ended before we were ready, we are glad she is now resting peacefully. Darlene had the strength, determination and heart of a lion. She showed to all who knew her the power of positivity as she overcame more than most humans could ever physically or mentally endure. She demonstrated, with grace, what it takes to keep getting back up, after being knocked down, over and over again. She faced each day with the faith that life would be better than the day before. She loved to help others and she gave so much of herself, never wanting anything in return. She taught us to show compassion and kindness to all even if we had been wronged and felt it was undeserved. Darlene left us with many precious life lessons and the best gifts of all…unconditional, unwavering love.
We will miss her cheeky demeanor, her fiery spirit and her beautiful smile.
At Darlene's request, there will be no funeral service. However, a life so beautifully lived deserves to be beautifully remembered. There was nothing she enjoyed more than a gathering of the people she loved most so the family is hosting an intimate wine and cheese in her honor. We will raise a glass to toast an extraordinary lady, tell some stories and remember her as a light in this world that will continue to shine brightly.
The family asks that in lieu of flowers you consider a donation to the Canadian Lung Association, The Cross Cancer Institute, The Women's Shelter or, in the true Spirit of Darlene, give your neighbor a helping hand with thoughts of her in your heart.