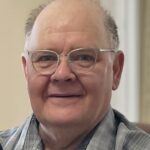 David Anthony Vokey passed away suddenly on August 31, 2022, after a short but brave battle with a brain haemorrhage. He was 67.
David was born April 17, 1955, in St. John's, Newfoundland,
second of four children to Annie (Stoyles) Vokey and the late (Aaron) Claude Vokey.
He met the love of his life, Elizabeth (Betty) Spurrell in 1974 and they were married in 1980. The young couple made their home in several places around Newfoundland as David worked for Newfoundland Hydro, including Deer Lake, Jackson's Arm, and Stephenville, before settling in Hillview where they raised two beautiful daughters, Leanne and Jenelle. In 2006, the family moved to Hay River, Northwest Territories where David worked in the mining industry.
David was a devoted father, proud grandfather and loving husband. He appreciated the value of hard work and never shied away from a challenge, or the opportunity to learn a new skill. He loved building and tinkering in the garage, his dogs, and spending time at the family cabin at Black River Pond. He was known to tell many great stories over a glass of rum (preferably Lamb's).
In his later years, David lived out his dream of seeing all his favourite rock bands in
person, including Bob Seger, Pink Floyd and the Eagles. He also enjoyed spending sunny winter vacations in Mexico. In 2016, he was blessed with a granddaughter, Mallory, who instantly became the apple of his eye. He adored being her Poppy.
David is predeceased by his father, Claude Vokey; father-in-law Cecil Spurrell; mother-in-law Geneva (Butt) Spurrell; and sister-in-law Glenys Strowbridge. He is survived by his wife Betty; mother, Annie (Stoyles) Vokey; his sisters Sharon (Gerald) Keough and Dale (Brian) Power; his brother Graham; his daughters Leanne (Scott) Clouthier and Jenelle (Tyler) King; granddaughter Mallory; and a large extended family.
David will be cremated in Edmonton before returning to Hay River. His remains will
ultimately travel home to Newfoundland, where a memorial service will be held at a later date.
The family requests that donations be made in his name to the Heart and Stroke Foundation; the Stollery Children's Hospital in Edmonton; or Janeway Children's Hospital in St. John's.