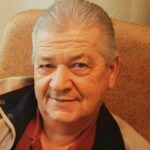 After more than 38 years of marriage, it is with much sadness and disbelief that I announce the sudden passing of my husband, David James Bamber, on Saturday, January 29, 2022 at 3:50 a.m. The only saving grace is that his soul is at rest with God.
David was born in Edmonton at the Royal Alexandra Hospital on May 11, 1946 to Edith Gwendolyn (nee Wiggins) and James Edward Bamber. David is survived by his wife, Gail Bamber (nee Millar). As the oldest of four siblings, David is survived by brother, Danny Bamber, sister, Bonnie Vandersteen (Garry), and sister-in-law, Holly Bamber (wife of brother Donald Bamber who passed away in 2014). He is also survived by his children, Evan Bamber (Heather) and Crystal Bamber as well as my children, Robert Martyn (Carissa) and Michele Hardie (Barry). They gave us seven beautiful grandchildren (from oldest to youngest): Krista Arnold, Matthew Hardie, Joshua Hardie, Shanna Martyn, Sophie Martyn, Olivia Gregory, and Jaxson Bamber.
David and I married on June 10, 1983 after a whirlwind, three-month courtship. (An interesting fact you may not have known was that David had dated only two women in his life and he married both.) After a week's honeymoon in Banff, a place we both loved, we returned to our positions at the University of Alberta.
Early in our marriage, he introduced me to the winter sport of skidooing. I would ask, "Why would anyone want to go out in the dead of winter and suffer the cold?" "The key is to get the right clothing," he said and, he was right, that is the key and I loved it. We went on the weekends to his mom and dad's farm near Sangudo where we would be joined by the rest of the family (Donald and Holly, Bonnie and Garry and their two children, David and Sandra and, often, Evan and Crystal would join us). David loved the speed and power of the machine. I, on the other hand, hung on for dear life, not that I had to worry about falling off, David wasn't reckless. Over the years, we would often reminisce about those wonderful times spent with the family.
In 2014, after researching on Kijiji for a year, David had found a used 2007, 36-foot Fleetwood Bounder, model 35E that became our "home away from home." There were so many features that we loved in it. First and foremost, it had a Ford V10 (for those who knew him, David was a "Ford man"). It contained double slide-outs (on the driver side it was 27 feet long), seven-foot ceilings, a four-door refrigerator, a rear bathroom with plenty of counter space and cupboards, and a 42-inch enclosed shower with skylight. From the front of the motorhome to the back, there were no hallways, no wasted space. While we loved people to come and visit, we would always say: "It sleeps two, feeds four, and entertains six."
From 2014 to 2019, we travelled down south for the winter and stayed three months at Havasu Falls RV Resort in Lake Havasu City, Arizona. David loved to drive the motorhome as it reminded him of driving a truck. We loved Havasu and the people we met. It's like another world and we had to "pinch" ourselves on our good fortune to be able to escape the Alberta winters. On the way down, we would stay a couple of nights at Lake Mead, which was a few miles from Hoover Dam (his favourite place to visit). Our summers were spent at Banff, two weeks in June and two weeks in September. Those will always be great memories, great times.
To enjoy Alberta's summer and to be closer to the family, last year we moved the motorhome to Camp n' Class in Stony Plain and stayed June 1st to October 1st. We loved it so much that we left our unit on the same site for winter storage with the idea of going back next May 1st and staying, this time, for five months. David was looking so forward to that day…
Although David became a step-grandpa as early as 1992, it wasn't until Crystal and Evan presented him with Olivia Grace Gregory (2013) and Jaxson James Melvin Bamber (2014), respectively, did he fully comprehend the feeling it was to be a grandpa and, was he proud! Over the years, gifts he gave to Jaxson and Olivia involved many hours of research on the computer. For example, this last Christmas, he decided Jaxson needed a new bike, something that wasn't a hand-me-down or second hand. After many hours on the computer comparing bikes, he found the perfect one for Jaxson: a blue, 20-inch Raleigh. To ensure it was safe, he included a bell, which naturally was blue, a front headlight, and back reflector. Next it was Olivia's turn. Olivia had mentioned to her mom that she would like something, like a wagon, to carry around her American Girl, "BeeBee." So, David went to the Indigo website and, low-and-behold, there was a pink, remote-control sports car for the American Girl. It had working headlights, reverse lights, horn, plus doors that opened and closed, an adjustable rear-view mirror, and, of course, seatbelts for safety. I don't know who was more excited, David or the kids.
Ever since he could remember, David only wanted to drive truck for a living and there were many trucks during his working life. Long-haul driving was not for him as it would involve being away from home. Starting out at Steele Brothers, he, as a lease-operator, drove a tandem truck. After Steele Brothers, he bought a Kenworth hauling cedar from BC to Edmonton. Next, he worked 10 years with three different hotshot companies as a lease-operator driving anything from a one-ton Ford (with rocket launchers) to a Freightliner with a 32-foot trailer. The biggest thrill of all was the rigging up of the trucks, right down to the finishing decals.
David was a true entrepreneur; he wasn't afraid to take a risk. His first business was Bamber Cedar Products, started in 1970 and ended in 1977. At the time, he was hauling cedar from BC to Edmonton for a lumber company and decided he would continue to get the cedar from BC, but he would have his own company to sell it. He located a warehouse in the west end (off Stony Plain Road), purchased the necessary machinery, and developed a marketing plan. While it may not have succeeded as he had hoped, he learned from the experience. In 1984, he started Oil Country Hotshot. However, he found it was difficult to break into an already existing market with customers who had been working with their regular hotshot companies and, in 1986, he shut the business down. "Nothing tried, nothing ventured."
Some last thoughts:
In grade 9, David was the top student in his class and received the second highest marks on his grade 9 exams for the County of Lac Ste. Anne.
He was blessed with a full head of hair which was groomed very carefully every day. His children knew they weren't allowed to touch or mess with it.
The family called him "David" and he referred to himself to others as "Dave."
This past year or so, David wanted to get healthier and, to achieve that end, he decided to get rid of some extra pounds he had "gathered" over the years. Most of his weight gain was due to being a truck driver and the erratic hours involved with driving a truck. This year, he was very proud to have achieved his goal of 50 pounds.
David possessed a wonderful sense of humor and was very quick witted. Crystal has followed in his footsteps.
In closing, what is it that I want you to take away regarding David as a man? It started as a boy of 12, when he went by himself to hear an evangelist speak at the Paramount Theatre. In 1969 he was baptized into Herbert Armstrong's Worldwide Church of God. While he left the church in 1983, he maintained and practiced the teachings of the church for the rest of his life.
David was a God-fearing man and lived his life accordingly. His faith mirrored his actions and his principles could not be compromised. I couldn't have asked for a more wonderful or loving husband. He was my best friend and I will miss him more than he will ever know. However, I can rejoice in the fact that David is finally "home" and the struggles of this world are finally over.
Due to COVID-19, there will not be a funeral service. Cremation has taken place at Simply Cremations & Funeral Services. There is a plan, some time this year, to have a Celebration of Life for David.
If you so wish, donations can be made in David's name to: WIN House, PO Box 20088, RPO Beverly, Edmonton, Alberta, T5W 5E6.