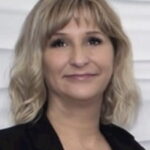 Debbie Lee Barrie, 50, of Sherwood Park, AB, passed away
peacefully at home on April 19th, 2022 after her 2 year battle with cancer.
She leaves a huge hole in the hearts of her family and friends who were always entertained by her stories and hilarious sense of
humour — she truly brought the life to the party.
Debbie was born on April 18th, 1972 to Enna and Donna Wiersma in Edmonton, AB.
She was beloved by everyone who had ever met her; a fantastic mother, a great wife, and a best friend to all… No matter the circumstance, you'd always leave with a story of something funny Debbie did while you were with her.
Debbie loved spending time with her family and friends out on the deck in the summer, or on winter vacation in Mexico.
Debbie is survived by her husband of 25 years, Todd, and their beautiful daughter Sydney who she loved deeply. She is also survived by her mother Donna Wiersma; sisters Teresa Wiersma and Barb Wiersma; parents-in-law Ted and Joann Barrie; sister in-law Carmen (Bobby) Fishbrook; and numerous aunts, uncles, cousins, nieces and nephews from both sides of the family…. Debbie is now at peace, joining her dad, Enna, and nephew, Justin Wiersma.
There will be a private celebration of Debbie's life, for family and close friends on May 15th.
The family requests, in lieu of flowers, a donation be made in Debbie's memory to the Alberta Cancer Foundation.