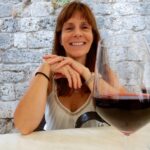 Debra Ann Pugliese (Nee Stabback)
January 6, 1962 – October 23, 2021
It is with deep sadness and much love that we mourn the passing of Debra "Debbie" Pugliese. Debbie passed away peacefully and surrounded by family on October 23, 2021.
She will be lovingly remembered and cherished by her husband of 37 years, Stan; children Sarah (Bjorn) and Alex (Rebecca); granddaughter Emberly; grandsons Tyse and Tobyn; as well as many relatives and friends. Debbie was predeceased by her parents Roger and Nancy and we are certain they have a game of cribbage underway already.
Debbie was born raised in Sudbury, Ontario where she attended Lockerby Composite High School and then Laurentian University. It was during this time Debbie held a job at a local grocery store where a young guy in the Meat Department sought her attention – it was the beginning of a timeless love that saw Debbie and Stan married on August 25, 1984. A love-story wouldn't be complete without a relocation, and Stan's work brought the two newly-weds out West to Edmonton, Alberta. Debbie completed her degree in Law and Justice and then continued studies to become a Paralegal. She worked for several law firms and county offices but with the arrivals of Sarah and Alex she sought to balance the life of raising a family and working which led to her running her own home based business.
Debbie's love of travel began with always prioritizing family vacations; from visiting Ontario and showing her children the landscape of her childhood, to exploring the Rocky Mountains and British Columbia, excursions to the Caribbean and later in life touring North America and Europe with Stan. Debbie loved new cities, exploring new landscapes and sampling the region's best wines. In retirement, it was only natural that Debbie and Stan tested out the Canadian Snowbird status, and enjoyed sunshine, swimming pools and daily hikes with many friends both old and new, in Palm Springs.
Debbie was a dedicated mother and proud Grandmother who always prioritized the best for her family. She attended every sporting event, proof-read every English paper and ran the Family Day-Timer that sat on the kitchen counter with a preciseness and organization that would still challenge the best smartphone app. Love for family was the core of Debbie's identity and their successes are her legacy.
Debbie also loved connecting with others. Even though she did not like to be the center of attention, she loved the energy that her group of friends or family brought into the room. Going to the gym in the morning or out for a lunch with her friends always brought her joy and of course a good meal in the evening where she could share some laughs with others was always cherished. Debbie always treated others with kindness, even if it was just a smile and wave when passing someone when out for a walk.
There will be no formal memorial service. Instead, we ask that everyone take their own moment and raise a toast (preferably red wine) in Debbie's honour and hug family and friends a little bit tighter. Debbie always valued the power of hug.
If anyone is seeking to make a Memorial Donation, please consider donations to the Alzheimer's Society of Canada or the Canadian Cancer Society. Debbie confronted Alzheimer's with dignified strength and her family would like to support ongoing research efforts into abolishing an illness that takes so much from so many. The Canadian Cancer Society was a charity near and dear to Debbie's heart, that with the loss of family and friends to cancer, she spent her lifetime supporting.