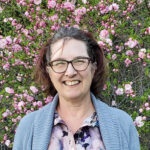 It is with great sadness that we announce the passing of Diana Elizabeth Morse of Hay Lakes, Alberta on September 3rd, 2021.
Diana faced her cancer as she faced life, with a determination and courage that was an inspiration to her friends and family. Defiant and stubbornly making it to the age of 61, she pushed expectations and lengthened averages for those who come next. She was always looking out for others, and chose a profession which enabled her devotion, proudly serving numerous communities in Alberta as a member of AMA. She felt particularly blessed and fulfilled to serve the Camrose community as an insurance agent, manager, and as a friend.
She is survived by her sons, her family, all those whose lives she touched, all who love her and all who were lucky enough to be part of her life. She leaves her joy, her grandchildren: Anabelle, Sadie and Russell. Her life mattered, her voice is heard, she will never be forgotten.
In lieu of a scheduled event, Diana would request you gather with friends and family, enjoy life, share stories and above all, laugh. If you wish to send flowers, Diana would prefer a donation be made to the Canadian Cancer Society or a charity of your choice.