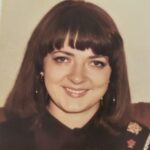 Donna Rattan (nee Peskunowicz) 1948-2023
Mother, Grandmother, Sister, Aunt, Cousin, Niece, and Friend to All
It is with great sadness we let you all know that Donna passed away peacefully June 20, 2023 with her son Boyd by her side and daughter Jodi on the phone.
Donna was born in Edmonton and grew up in the Burtonsville/Tomahawk area of Alberta.
She became mother to Boyd Rausch and then Jodi Laycock (Husband Scott and son Storm) of Luceland, SK.
Donna was first and foremost a great mother. She did everything to ensure her children experienced worldly travels in their early years.
She lived in many countries including Libya, Scotland, Gabon, Norway, Greece, France and Switzerland.
Donna eventually returned to Canada to spend time with all her family, her lifelong friend Judy, and all others she blessed with her friendship.
There is not a single person who she met that did not agree that she was the kindest and most compassionate person they ever met.
The family would like to thank the staff at the Edmonton General Continuing Care Centre for their kind and compassionate care during her last days.
She will be missed by all for her positive outlook, great story telling, and time she always made for her friends and family.