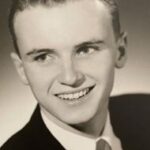 Douglas (Brian) Pettigrew, age 83 years, of Calgary, passed away peacefully from cancer on July 2, 2022, in Calgary at AgeCare SkyPointe Hospice.
He was born on April 11, 1939, to William (Bill) and Edythe Pettigrew in Calgary and moved to Edmonton at the age of 3.
Brian attended Westmount School and Westglen High School, followed by the University of Alberta where he received his Bachelor of Commerce Degree.
He worked in retail management in Edmonton, Calgary, Winnipeg, and Thunder Bay.
He was highly involved in the YMCA and Tuxis Boys Parliament through the Alberta Youth Parliament where delegates engage in the parliamentary debate.
Brian is survived by his sons Bob (Carla), and Howard (Margaret), grandchildren Billy, Dustin and Chad, great-grandson Jayce, sister Carol Olson (Pettigrew) niece Laurie Brugos (Olson) and nephew Tim Olson (Paula).
He was preceded in death by his youngest son Scott, and parents William and Edythe Pettigrew.
Many thanks and deep appreciation goes to the excellent staff at AgeCare SkyPointe Hospice for their compassionate support for Brian and his family.
Donations may be made to The YMCA in Brian's name – Charitable Registration 11930 7122 RR0001 by way of:
1. Online at:
https://secure.e2rm.com/registrant/DonationPage.aspx?eventid=352037&langpref=en-CA&Referrer=direct/none
2. Send a cheque in the mail to the attention of:
Nancy Moore
General Manager
Don Wheaton YMCA
YMCA of Northern Alberta
10211 – 102 Avenue NW
Edmonton, AB
T5J 0A5