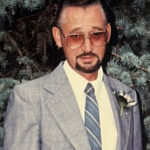 September 19, 1943 – June 18, 2023
It is with great sadness that we announce that on June 18, 2023, Earl Jerome Tchida, 79, of Sherwood Park, AB, passed away peacefully.
He will be lovingly remembered by his wife Joan of 61 years; daughters Sandy, Laurie (Joe), Debbie, and Cathy (Mike); grandchildren Kayla (Mike), Kyle (Jessica), Alexandra, Madison, Keelan, and MacKenzie; and great-granddaughters Thiea, Aurelia ,and Emma; along with many close extended family.
Earl resided in Sherwood Park for 54 years with family close by. Earl enjoyed many
outdoor activities including camping and fishing with family and friends. Earl loved
curling, both in men's teams and also with mixed teams with Joan by his side. Earl had a passion for animals on the family acreage and loved his many dogs, especially Mickey, who was by Earl's side for his last 13 years.
A private family celebration will be held at Glenwood Funeral Home & Cemetery, September 19, 2023 at 2:00 pm.