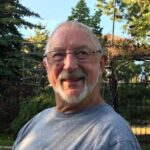 EDWARD BAKER NEILSON – A loving and dedicated husband, father, grandfather, great-grandfather, brother, and friend to many passed away peacefully at Norwood Palliative Care on
November 22, 2022, at the age of 80 in Edmonton, Alberta.
Edward is survived by his wife of 56 years, Marilyn Ruth Neilson (nee Coates), and six children, Andrea, Celina, Lora, Jesse, Roy and Hollie, as well as his adored grandchildren: Curtis, Jonan, Everett, Dominik, Roland, Susannah, Arya, Edward, Alice, Lupin, Rupert, Violet, Sophia, Oscar and great-grandson Owen. He is also survived by his sister Carol and brothers, John, Bill and Nels.
The countless people who loved Ed, whose lives he touched and brought joy to, is too long to list but he held each of you dear to his heart with fond memories and endless
stories which he shared often, even in his last days. A special thank you to everyone who came to his side at the hospital, held his hand and made him smile in his last months. He will be sorely missed and loved always.
Edward was born on April 20, 1942, to Carlo and Alice Neilson, and raised in Richmond, B.C. It was there that he met and married his wife, Marilyn in 1966, but headed east to Alberta in 1976 where they settled down and raised their steadily growing family in Red Deer. As a journeyman machinist, Ed purchased and operated a successful machine shop in Red Deer for more than 20 years. Upon retirement, Ed and Marilyn moved to Edmonton, where Ed continued enjoying his love of motorcycles, outdoor adventure, handyman projects, gardening, live music and good times with friends and family.
An extremely hard worker and a dedicated family man, Ed also always found time for others. He was a generous volunteer and neighbour, willing to lend a calloused hand to help his children, employees, and community. Ed always led by example with an
optimistic and can-do attitude, utilizing an endless reserve of patience and kindness when teaching others. He was a calm, supportive, and loving presence in his family's life, always there to make things better in times of need or distress.
Edward's love for his children and grandchildren was his deepest sense of purpose. He stood behind his family every step of the way, providing unwavering support and
unconditional love. He was their biggest cheerleader at every event, from a school performance to a world competition — he always stood up, danced along, whistled and clapped the loudest and the longest to show the world what a proud father he was.
We remember Ed today on what would have been his 81st birthday with deep sadness and loss but also with our hearts filled with love and joyful memories. A private memorial service and will be held with close family and friends on Father's Day, June 18, 2023. Details will be forwarded to all invitees.