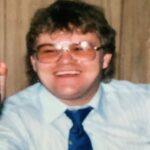 Ed passed away peacefully, joining his father John and his sister Rosemary. His mother, Malfridur, has now joined Ed, Rosemary, and her husband John. Ed is survived by his sisters Loretta (Ernest) and Jude (Robert); brother-in-law Ken; nieces Brenda (Paul) and Donyne (Bill); nephew Devin (Nicole); and great-nephew Levi; as well as extended family and friends.
Edward was a curious boy who brought joy into the family home. He moved from Elfros, Saskatchewan to Edmonton, Alberta in 1978. While he was living in Edmonton, he was welcomed into the Haakonson family. During his 23 years of employment at Labatt Brewery he enjoyed all the social activities the company offered including playing hockey on their team.
Ed enjoyed visiting his friends, food, hockey, watching wrestling, and going to concerts. He was happiest visiting and talking to friends and family.
Ed was a gentle, kind soul who lived with an open heart, and always did his best. We are grateful for having Ed in our lives. His spirit will always be with us.