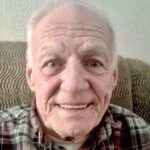 With great sadness we announce that Ted Mortimer passed away at the age of 84 years.
He is survived by his loving wife Elizabeth of 64 years; his
daughter Wendy (Glenn); his grandchildren Miranda and Kurtis; and nieces Wanda (Kevin) and Christina (Darrell).
Ted will be remembered as a caring husband and father whose sense of humor brought great joy to those that knew him.
A celebration of life will be held at a later date