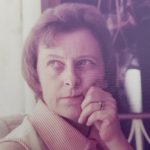 Edwardina (Deany) Celia Soltesz (nee Gower)
January 30, 1940 – February 5, 2021 (81 years young)
It is with deep sadness that we announce the passing of Deany (Gramma), who was visited by as much family as was allowed throughout her last days. A devoted wife , mother , gramma, sister , daughter , aunt and valued friend .
Once her last family members left with hugs, love and goodbye at 8:00 p.m., she peacefully held hands with her husband of 60 years (David Soltesz) until she drew her last breath at 8:10 p.m.
Daughter to Edward and Mildred Gower, Deany is the youngest of five girls (Alfretta, Eyvon, Gwen, Audrey)
Predeceased by her parents, older sister (Eyvon), niece (Linda) and granddaughter (Stacey).
Deany was born in Westlock, and grew up in both Westlock and Pickardville, where she met a very special boy at the age of 6. Their incredible bond became marriage on June 18, 1960 (Westlock Whacky Saturday) with a front page picture and article in the Westlock Witness. Their journey together was just beginning.
Deany's amazing 81 years brought the world four beautiful daughters (as well as a place to call home to numerous foster babies)
• Cindy (John)
• Wendy (Myles)
• Tammy (Jeff)
• Angie (Doug)
From these beautiful daughters Deany was given 12 precious grandchildren. Stacey (angel above), Michael, Katey, David, Stephanie, Tommy, Tyler, Scotty, Taylor, Ryan, Ben, Sam.
Deany/Gramma was then blessed ever more with an additional 9 great grandchildren.
Gramma had an incredible love for family and that reflected on each of her children, grandchildren and great grandchildren by how they live their lives as she did.
Her love of hockey (boo Calgary), gardening, knitting/sewing, all animals and Dr. Pol was just a small example of her passions.
Her thrift shopping with Auntie Weewee was simply mesmerizing and her cooking and baking was comparable to Julia.
Her 4'10" stature never held her back as she was the most incredibly feisty courageous heroine anyone could meet.
Our sincere thanks to Dr. Judy Schick (friend and doctor), the Cross Cancer Institute, and the staff on 7 East and Dr. Brit at the Misericordia Hospital who all went above and beyond looking after mom and the entire family during these last weeks.
In lieu of flowers – donations gratefully accepted to Cross Cancer Institute, Misericordia Hospital (Covenant Health) or Pilgrims Hospice Society.
A private memorial will be held at a later date.