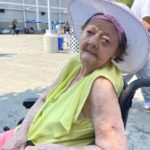 The family of Eileen Lagace (Bourne) announces with great
sorrow, her passing on August 12, 2023.
Eileen was born September 20, 1943 in Noranda, Quebec. She is predeceased by her late husband Emery Lagace, her daughter Moreen Payne (Lagace) & granddaughter Ashley Payne.
Eileen is survived by her two loving children, Carrie McPherson (Lagace) & Glen Lagace. She is also survived by 10 grandchildren, 12 great-grandchildren. Eileen's family will be holding a private viewing & service during the week of August 21, 2023.
If you wish to send flowers, please do so at Simply Cremations, 5224 99st NW, Edmonton AB, T6E 3N7. If you wish to make a donation in Eileen's memory, please
donate to the Edmonton SPCA.