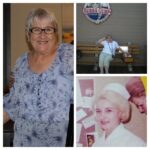 Eleanor Aiken, 79 years old, passed away peacefully on March 26, 2021 in Edmonton, Alberta after a valiant battle with cancer. Eleanor was born in Bromley, England on March 26, 1942. Her parents, Peter Aiken (Pte. of 43rd Field Artillery, R.C.H.A.) and Bridgette Gaughan, met during WWII in England. Eleanor's maternal family is from Blacksod in the County of Mayo, Ireland, where she spent her first impressionable years.
Eleanor, with her mother Bridgette at her side, took the long journey to join her father in Dunkin, Quebec. Travelling from Ireland to England, then onto the ship called the Mauretania, arriving at pier 21 in Halifax on March 27th 1946, the day after her 5th birthday.
Eleanor grew up in Dunkin and went to school in the eastern townships of Quebec. After graduating from Knowlton Composite Highschool in 1961, she went on to study nursing, with the support of her Aunt Marie Gaughan, at the Queen Elizabeth Hospital in Montreal. Eleanor's spark for nursing was ignited because of her father's experience with the Red Cross during the war, a revered school nurse with a yearning to help others. She often spoke of her deep gratitude for having the opportunity to be a nurse, as she came from a family where finances were tight, so the help of her Aunt Marie is what made it possible to finish her costly nursing training.
She graduated from the Queen Elizabeth School of Nursing in June of 1965 as a Registered Nurse. During her nursing career she was a clinical instructor, clinical supervisor, and team leader. Her fondest experiences of nursing were regularly shared with family, the following hospitals left a resounding impact in her life; Queen Elizabeth Hospital, Royal Victoria Hospital, Brome Missisquoi Hospital, Maison Knowlton House, and the Misericordia Hospital. Eleanor practiced nursing in Quebec, Florida and Alberta.
Her first job as a registered nurse was at the Queen Elizabeth Hospital, kicking off a nearly 50 year career as a well respected and accomplished registered nurse. Eleanor is a baby boomer, mother, aunt, sister, niece, grandmother to zoomers, and animal parent to many pets over the years. Her humour, wit, caring personality, resilience and strength will be severely missed.
After retiring in 2011, Eleanor moved in with her daughter, Rebecca Aiken. She spent quality time with her daughters, Jennifer and her dog, Burton (her favourite dog in the world), Rebecca, her husband, Aaron, and her treasured grandchildren, Arwin, Cassidy, and Eliana. Eleanor volunteered at a local school helping children, following her retirement in grade one classrooms, for as long as she was able. She enjoyed spending time with her five siblings whenever possible, reminiscing on special memories of Dunkin and growing up on the small country farm.
She is survived by her daughters Jennifer Aiken and Rebecca Aiken-Bailey (Aaron Bailey), grandchildren Arwin, Eliana, and Cassidy; siblings John Aiken (Lorraine Aiken), Violet Murphy (Dana Murphy), Lendy McLeod (Ken McLeod), Carolyn Aiken, and Tammy Aiken, as well as numerous nieces and nephews. She is predeceased by her father, Peter Aiken, and mother, Bridgette Aiken, and brother, Patrick Aiken.
Please consider a donation to the Canadian Wildlife Federation in Eleanor Aiken's Memory. Eleanor loved Canadian wildlife, which was a favourite topic of conversation with her loved ones, particularly her children and grandchildren. Website is found here www.cwf-fcf.org which allows for donations in memory of, with the option of sending the family an ecard via 780becky@gmail.com if you choose.
Due to Covid-19 restrictions, a celebration of life will be held at a later date when she can be honoured with everyone who loved her safely.