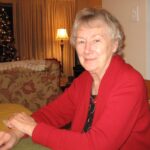 PARK, Elizabeth – October 2 1943 – July 6 2022.
Elizabeth passed away peacefully on July 6 2022. She leaves to cherish her memory her husband of 59 years Samuel, her two children Helen (Garnet) and Geoffrey (Liana), and her four adored grandchildren; Marilyn, Jane (Mark), Matthew, and Adam. She was predeceased by her parents William and Elizabeth Sands, her sister Margaret (David), and is fondly remembered by her brother Billy, as well as several nieces and nephews.
Elizabeth was born in Belfast, Northern Ireland to William and Elizabeth Sands. In 1962 she met her future husband, Sam, at a dance and they married in 1963. In 1965 Elizabeth and Sam emigrated to Canada and lived in several cities throughout Canada before settling in Edmonton. They were longtime residents of their community and enjoyed life with many friends, near and far. Elizabeth loved cooking, dogs, roses, and her music, especially the music she loved from her childhood in Ireland.
The family would like to thank the Edmonton General Hospital palliative care staff, the staff at the University of Alberta Hospital, and the Liver Transplant Team for the compassion and the exceptional care given to Elizabeth. Elizabeth was the fortunate recipient of a liver donation that allowed her to enjoy her family for an additional 20 years. Donations to the Canadian Liver Foundation would be appreciated in lieu of flowers.
A celebration of life will be held in the near future to remember Elizabeth and share the many memories her friends and family hold dear.