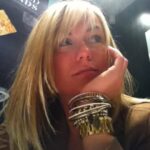 May 11, 1983 – May 7, 2022
Erin Lee Ogilvie unexpectedly passed May 7, 2022, in Sherwood Park, Alberta at the age of 38.
She will be lovingly remembered by her Daughter, Eva Lee Ferguson; Parents, Cynthia Robson, and Kevin (Darlene) Ogilvie; Siblings, Meagan (Mike) Turenne, Kevin (Tina) Grosky, and Stephen (Hanna) Ogilvie; Nieces and Nephew, Ryliegh, Gemma, and Michael; Grandmother, Carol; and many Aunts, Uncles and Cousins.
Erin was predeceased by her Grandparents, Ken & Betty Robson, and Lamert & Madeline Ogilvie; Uncles, Jimmy and Arthur Ogilvie; Brother, Thomas Ogilvie; Grandpa Ernie; and Cousin Justin.
The simplest pleasures in life brought great joy to Erin. She loved a quiet evening with friends or a boisterous weekend with family. Camp out stories will be forever
remembered by all who heard them.
Erin learned to enjoy travel at an early age when she went to Europe on a school vacation. This was the start of many out-of-country adventures, including the Philippines and the Caribbean.
Erin loved spending time in the kitchen, creating delicious meals for her family and friends. Her charismatic personality was evident in many adventures in sales, from
cocktails to the jewel trade to homes.
Erin had the ability to adapt to any situation and everything she tried was done with vigour, from marathons to modelling.
Cremation has taken place. Everyone who remembers her is asked to celebrate Erin's life in their own way. Raise a glass of your favourite drink in her memory.
Instead of flowers, the family would hope that you will do an unexpected and unsolicited act of kindness for some appreciative soul in Erin's name.