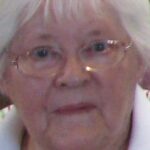 "All I want is loving you
And music, music, music."
Ethel Valleau passed away on December 8, 2021 at the age of 100 years, 9 months. She was predeceased by her parents, John and Edith Matheson; her husband, Jim Valleau; 6 brothers; 2 sisters; and a son-in-law (Dave Bertsch). She is survived by her daughter, Marilyn Bertsch; sons Bob (Susan), Tom (Judith), and John (Alan McLean); brother, Harold (Hal) Matheson; brother-in-law, Don Valleau; 12 grandchildren; 12 great-grandchildren, and over 50 nephews and nieces.
Mum grew up in Winnipeg, in a busy household filled with laughter, music, and stories. She was a "people person", a good listener, a keeper of confidences, and a typical Matheson: opinionated, outspoken, and no pushover. As the eldest daughter, her sense of responsibility for her siblings never left her.
The family moved to London ON in the early part of World War 2. Mum met Dad (Jim Valleau, an RCAF Pilot from Saskatchewan) at a dance. They married when he returned from overseas in 1945. They lived in Saskatoon, then Aylsham, SK; in 1957 they moved to Edmonton. By 1962 they had 4 children and had started a new venture: a grain farm northeast of Vermilion AB. When Dad retired, the farm became their summer home. Dad died in 2014, and Mum moved to Laurier House Lynnwood the following spring.
Mum was loving, sentimental, hardworking, generous, but always practical. She taught Sunday School, sang in choirs, supported many charities, and was an early advocate for Pro Choice and Gender Equality. She loved singsongs, visiting, gardening, country music, Harlequin Romances, and Werther's Originals candies. Most of all, she loved her family.
Thanks be to God for Mum's long life. May her memory be eternal!
Many thanks to the staff at Laurier House Lynnwood for their loving care of Mum during the past 61/2 years, and to her Companions from Friendship Care Services who brought comfort and joy to her final weeks. Cremation and a private memorial service have taken place. Mum's ashes will be interred beside Dad's next summer at Moose Range Cemetery near Arborfield SK.
Please direct any donations in memory of Ethel Valleau to the "Pastoral Care Fund", St. Andrew's United Church, 9915-148 St. Edmonton AB T5N.