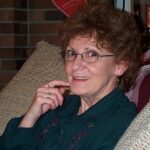 Etholeen Cecile Ganong (nee Walker) born May 9th, 1947 in Preeceville, SK, daughter of George and Norah Walker (nee Davison), and sister to Beverly Strand (nee Walker) of Sturgis, SK. She is survived by her husband of 56 years Lawrence, and
daughters Nicole Phipps (Sydney, Australia) and Andrea White (Ashland, ME). She treasured her grandchildren Shae-lyn, Annaliese and Alexander, along with her extended family of nieces, nephews, grand-nieces and nephews.
Etholeen was a kind and generous friend who was a talented quilter, and loved to do many other crafts and socialize with her family and friends since her retirement. She had a love of travelling, especially to Australia to visit Nicole, her husband Peter and
daughters Shae-lyn and Annaliese, as well as Maine where Andrea, her husband Marshall and son Alex reside. She loved to putter in her flower beds and gardens around her
country home.
Etholeen was loved by everyone who had the pleasure to meet her. Her kindness and generosity will not be forgotten. Her unwavering love and support of her family is treasured.
"Moms: they are strength, wisdom and love personified. Where – WHO would we be without our mothers?"