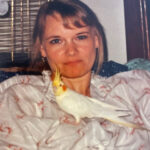 Fay Susan Beckman, age 70, passed away peacefully on November 5th, 2021 due to stomach cancer in Edmonton, Alberta. She was born September 17th, 1951 in Humbolt, Saskatchewan to Catherine (Litz) and Francis Beckman. She is survived by her loving daughters Catherine Beckman and Angela Parkinson and grandchildren Ryder Beckman, Karson Hunsperger and Dane Hunsperger. She is predeceased by her parents and 3 siblings (Verna, Diane and Lavern).
Fay was kind, honest and hardworking, She had a witty sense of humour and truly enjoyed the simple things in life such as spending time with her family and friends. She enjoyed going out for dinner at restaurants and going to the movie theatre. She was passionate about animals and treated all with kindness and love. She worked as an LPN before retirement and was very good at her job.
She will be deeply missed by her family and friends.