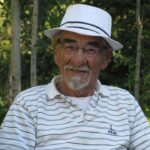 Frederick Rene Flamand
October 7th, 1929 ~ September 7th, 2021
It is with deep sadness and loss that we announce the passing of Fred, our beloved husband, father, grandfather, great-grandfather and friend at the age of 91.
Fred was born in Russell, Manitoba, the 8th in a family of 9 children to parents Joseph and Elizabeth Flamand.
He will be lovingly remembered by his wife Sylvia, children Francis (Lisa), Mark (Chenelle), Therese (Jim), and Patricia (Adrian), twelve grandchildren and two great-grandchildren.
He was predeceased by his parents, all of his siblings, and a cherished daughter Andrea and son Matthew.
Fred was blessed to have so many wonderful friends that enriched his life with good times and great memories.
He always enjoyed going back to the old homestead in Manitoba every summer to reconnect with siblings, cousins and old friends.
Fred was a hard worker, spent most of his career in real estate and was always ready to lend a helping hand. He had many interests, loved to play cards, go fishing, camping and his favourite game was golf. He has the trophies to prove it including the elusive hole in one.
We love you and will miss your sense of humour, good nature, loving advice and guidance.
Family and friends are invited to his Funeral mass on Saturday, September 18th, 1:00pm with Father Len Gardiner at Assumption Catholic Church. 9034 – 95 Avenue, Edmonton.