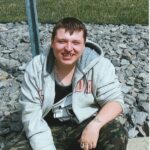 Gage Ashton Thibault-Bombay
September 20th, 1999 – August 17th, 2021
In loving memory of Gage Thibault-Bombay.
Gage was born September 20th, 1999 in Slake Lake, AB to Terry & Charity Bombay.
Gage tragically passed away in Edmonton, AB on August 17th, 2021.
He was very loved and cherished by his family.
Survived by his parents Charity & Terry Bombay, Brother Jeremi Thibault-Bombay (Shayla Roufosse), Grandparents Jo-Ann & Paul Soares, Ally & Arman Bombay, as well as aunts and uncles Jason Thibault (Tracy Chamzuk-Thibault) ,Tracy Thibault (Robert Vogel), Tammy Bombay and cousins Rebecca, Kayla, Tierra, Lexus, Joesph, Katie.
Gage was the most kindhearted, funny, loving, generous, young man you would ever meet. Even from a young age he was always trying to make people smile, always held doors open for people, and gave whatever he could to make others happy. He loved his family purely and unconditionally as they did him.
He enjoyed plenty of summer days outdoors by Slave Lake Beach just soaking up the sun and playing in the water. He loved boating and seadooing, knee boarding, tubing, pretty much anything he could do in or on the water. He also loved BMX's and biking.
He loved to laugh and could brighten a room just by walking in and we know he is flying in the clouds and stars with his papa by his side.
Gage was taken much too soon. He will be deeply missed and forever remembered by all who loved him and knew the kind soul he truly was inside.
"To lose someone so special
is really hard to bear
it hardly seems believable
that you're no longer there
You left us far too early
before your time, it seems
and now you'll never have the chance
to fulfill all those dreams
However hard it is though
we'll take comfort in the thought
of all the memories we have
and the happiness you've brought
You always lived life to the fullest
but ours won't be the same
until the day when we can see
your smiling face again"