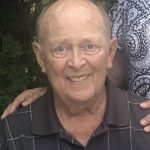 It is with great sadness that we share the passing of our beloved Gary Hartman on August 14th, 2020 at the age of 75, with family by his side.
Gary will be lovingly remembered by his wife of 53 years, Carol, son Ryan (Elene) of St. Albert, daughter Randene (Ryan) Rishaug of Sherwood Park, 7 grandchildren: Noah, Caelum, Avery, Khai, Carter, Ella, Maxton, sister Dorothy (Bob) Marshall of Edmonton, brother Bryan of Houston, Texas, and many nieces, nephews and beloved friends.
Gary was predeceased by his parents Alvin and Helen, and sister Shirley Walker.
Born August 5th, 1945 in North Battleford, Saskatchewan, Gary spent most of his youth in Cold Lake, Alberta, discovering his love of fishing and hunting.
Gary was very accomplished professionally. He earned a diploma in Civil Engineer Technology at NAIT in 1965. He became a Specification Writer and remained a member of CSC for 50 years. He was a Project Manager, ending his career on the building of the Faculty of Fine Arts and Communication, Grant McEwan downtown Edmonton campus. He also served for 15 years on the Canadian Construction Documents Committee (CCDC ), and was a mentor to many in his field.
Gary and Carol enjoyed traveling, often with family, to Hawaii, Switzerland, Disneyland, Disneyworld, the Caribbean, Newfoundland, New Orleans, Mexico, Italy, Greece, New York and Iceland to name a few. They spent 10 years as Snowbirds, wintering in Yuma, Arizona, enjoying quality time with each other and many of their dear friends.
Interment will take place in Cold Lake South in the summer of 2021.
In lieu of flowers, we encourage you to please visit the organ and tissue donor registry site and sign your donor card!