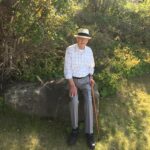 On Saturday, April 30,2022, Gary Huising of St. Albert passed from this life into the presence of his Lord and Saviour, Jesus Christ, at the age of 80.
Gary will be lovingly remembered and sadly missed by his wife Laverne. Left to cherish his memory are his children, Brad (Corine) Huising and Kelleen Huising; and his precious grandchildren, Madeline and Zachary Huising. He is also survived by his sister, Karin Merrick, and brothers-in-law Bill Voort and Lawerence Konjolka.
Gary was predeceased by his sisters Ann Voort and Riki Konjolka, and infant brother Hendrick Huising.
A family gathering will be held at a later date.