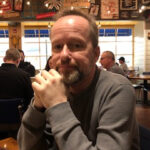 With great sorrow we announce the passing of Gary Michael Gayleard, 52 of Edmonton, AB, who lost his battle with cancer March 28, 2021.
Gary was born in Selkirk, MB on December 29, 1968 to Edward & Lily Gayleard. Although he lived in MB, and Sask, he spent most of his life in Edmonton, AB. Gary was an expressive, creative and artistic young man. He loved music, fashion and was an avid reader of fantasy novels.
He met the love of his life Chelsey at a friend's wedding, and their friendship and love grew from there. They were married January 4, 2020 with all of the family members watching.
Gary and Chelsey both shared a love of long drives, cooking together, watching the history documentaries and their trips to Victoria. They loved to laugh with family and friends and were members of the Riders Nation.
Gary was preceded in death by his father Edward in 1996.
Gary is survived by his wife Chelsey, daughter Cadence, mother Lily, brother John (Liza), sister Roberta, brother Wilfred (Val) and brother Gerald (Heidi). Nephews and nieces Johnny, Andrew, Sammy, David, Pearl and Sarah.
We would like to thank extended family and friends for all the love, support and care given to Gary during his battle with cancer.
In lieu of flowers, please make donations to the Canadian Cancer Society of Canada.
Always loved and never forgotten. Till we meet again.