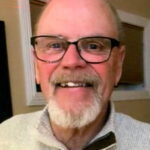 It is with great sadness that we announce the passing of George Gallimore, who passed away peacefully on July 27, 2022 at the age of 69, after a six year battle with cancer.
George will be lovingly remembered by his wife Cynthia Gallimore, daughter Jennifer (Adam) Langille, and Grandchildren Aiden (9) and Brooklyn (5). He also leaves to mourn brothers John (Lynn) Gallimore and Bob (Fran) Gallimore and many nieces, nephews and other family members. Special
mention to lifetime friends Bonnie and Lonnie Waterhouse and Emil and Moira Chyzowsky.
A Celebration of life for George will be held at a later date. Details will follow on social media.