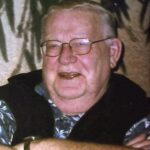 On January 13, 2022, we lost our dear Uncle George. George Hayes was born on May 30, 1937, the youngest of 6 children born to Jane and Charlie Hayes in Strome, Alberta. He was 84 years old. Although George was predeceased by his loving parents and brother & sisters, George leaves to mourn his sister-in-law Rosemary, 8 nieces and nephews, Beth (Ian), Peggy Anne (Barry), Bob (Judy), Barb (Peter), Pat (Shawna), Mary Jane (David), Susan (Brian), and Dan along with numerous great nieces and nephews, and great-great nieces and nephews.
George graduated from the Southern Alberta Institute of Technology as a Civil Technologist. His extensive career as a surveyor with the Federal Government saw him assisting with the development of many of the airports in Western Canada, south to Calgary and north in the Yukon and the Northwest Territories. In his later years he worked as a consultant for small aircraft accidents.
Although George is no longer with us, few of us will fail to remember him when we pick up a remote-controlled toy, a model train set, see an extensive collection from the Franklin Mint, or when we overhear an argument about how the Oilers are doing.
Cremation and private interment will take place at a later date. We ask everyone who remembers George to celebrate in their own way.