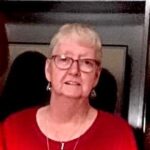 With the heaviest of hearts, we announce the passing of our beloved Geri.
Geri was a loving and devoted mother, grandmother, wife and friend. She grew up in Schreiber and spent many of her years working for the municipality. After retirement, she moved to New Brunswick and then Alberta with her husband Randy. She passed December 28 and will be dearly missed by all who knew and loved her.
She is survived by her husband Randy Hood, daughter Stacey (Jamie), son Rick (Sondra), grandchildren Kyler, Kaley, Michael, Lauren and Emma, and her brother Ron. She is also survived by several cousins, nieces and nephews. At Geri's wish, no service will be held.